Later remdesivir antiviral drugs are popular throughout the world. This drug is said to be effective for treating Covid-19 disease in a small experiment conducted on a group of monkeys. But in human clinical trials it was found that remdesivir failed to accelerate the recovery of Covid-19 patients or prevent patients from dying. Contrary to what has been heralded so far. This was known after Gilead Sciences, a remdesivir drug manufacturer, conducted clinical trials on Covid-19 patients in China.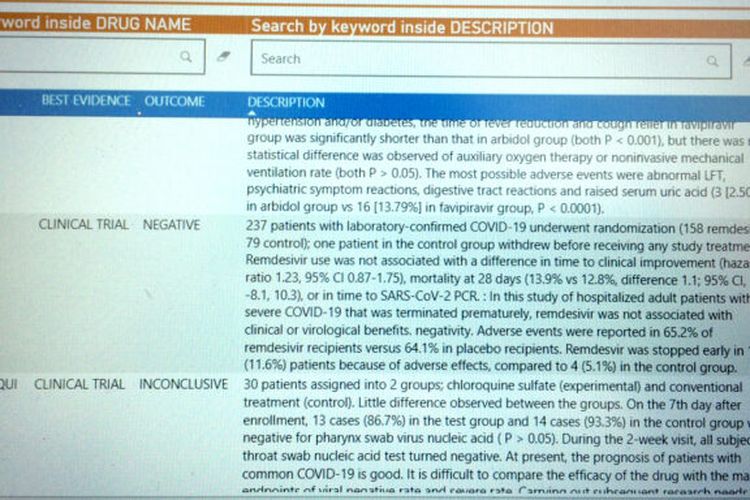 Reported by STAT News , Thursday (4/23/2020), a summary of remdesivir research results was posted on the World Health Organization (WHO) website.
But when seen again by STAT News on Thursday (4/23/2020), the report was deleted. According to a WHO spokesperson, the results of the report were accidentally uploaded so they were immediately deleted.
"The draft manuscript was provided by the author to WHO, then accidentally posted on the website (WHO). We immediately deleted it after realizing the manuscript was uploaded. At the moment the manuscript is under peer review and we are still waiting for the final version. WHO has not been able to comment on this, "said WHO spokesman Daniela Bagozzi.
Remdesivir manufacturer comments STAT News also contacted Gilead to find out how the results of the predicted remdesivir research could treat Covid-19.
Amy Flood as a spokesman for Gilead said that his company still believes that there are benefits that can be given remdesivir drugs.
Amy said remdesivir research was stopped early because there were too few patients involved. This in turn makes the results of the study less able to provide statistically meaningful conclusions.
"But trends in the data show there are potential benefits for remdesivir, especially for patients who were given remdesivir drugs early in their illness," Amy said. Because Gilead's research was terminated prematurely, the report was most likely imperfect.
This is due to the lack of data obtained with little time. Gilead conducted a study in severe Covid-19 patients and was said to show encouraging results. Nevertheless, the study was difficult to interpret whether patients recovered from remdesivir medication or because of standard treatment.
Remdesivir research In addition to being investigated by Gilead, the candidate for the corona drug was also carried out by several scientists. One of them is the University of Chicago.
Explained by researchers last week, their clinical trials were controlled and according to medical standards. In addition, the National Institute of Allergy and Infectious Diseases also conduct research comparing remdesivir with placebo.
While the Gilead study conducted research in the control group with patients at moderate levels. In addition to these two studies, there are actually many studies that are testing remdesivir drugs. The results of remdesivir research conducted by Gilead According to a summary of research conducted by Gilead in China so far, remdesivir has not helped in clinical improvement (patient recovery) compared to standard control of care.
After one month, 13.9 percent of patients taking remdesivir died compared with 12.8 percent of patients in the control group. This difference was not statistically significant. "In this study, adult Covid-19 patients who were hospitalized with severe pain showed that remdesivir treatment did not provide clinical or virological benefits," writes a summary of research in China.
The study was stopped prematurely because it was difficult to register patients in China, where the number of Covid-19 cases declined.
From this, a scientist from outside the team said that the benefits provided by remdesivir were small. "If there are no benefits of remdesivir in studies of this size, this shows that the overall benefits of remdesivir tend to be small," said Andrew Hill, senior researcher visiting Liverpool University.
He added that the results of the research must be gathered with a larger study conducted by Gilead using a technique called meta-analysis to enable a balanced view of the efficacy of remdesivir from all randomized trials. The Gilead study in China involved 453 Covid-19 patients.
The patients were involved in the study for 12 days since the onset of Covid-19 symptoms.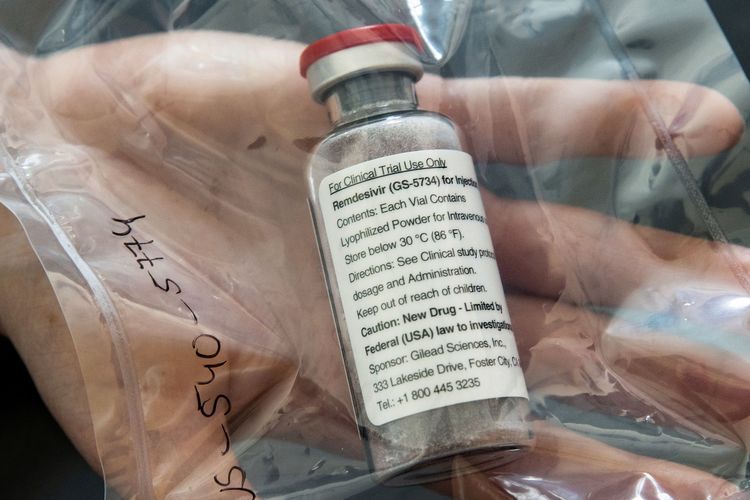 Patients were randomized double-blind and treated with infusion of remdesivir or placebo daily for 10 days. The ultimate goal is to show that this drug is better than placebo in improving symptoms within 28 days.
This improvement was measured by a six-point scoring system from hospital discharge (score 1) to death (score 6).
If the drug shows a reaction and helps cure, there is at least a two-point increase in the patient.
According to the abstract, 158 patients received remdesivir and 79 patients were in the control group. One patient in the control group resigned before receiving treatment.
The abstract says that for time to clinical improvement, the hazard ratio is 1.23. Typically, this means that patients taking remdesivir recover more slowly than patients in the control group.
However, in the notes of Umer Raffat, a biotechnology analyst at Evercore ISI, the hazard ratio is interpreted to be the opposite. A hazard ratio of 1.2 indicates the patient is improving.
It is not clear how this hazard ratio is explained in the abstract. Whether the benefit of the drug tends to be positive or negative, the differences explained in the abstract are not statistically significant, which means that the study failed.
There are differences in the criteria for Covid-19 patient registration and the way remdesivir is used which makes the extrapolation results from this Chinese study difficult for ongoing research. Gilead still hopes that remdesivir studies conducted by other scientists and the data can be published soon in peer-reviewed journals.